No matter where you park your vehicle,
from now on, you can stay warm the whole night.
Meet Your New
Diesel Air Heater
Warm your cabin anytime, anywhere,
in just minutes.
These heaters have the capacity to warm up not just a camper or boat, but also a bus, a shipping container or a large tiny house.
The heat is generated by burning the aerosol of diesel. In contrast with other heating methods like gas, petrol or wood-fire, you can be sure this is the safest camping heater on the market.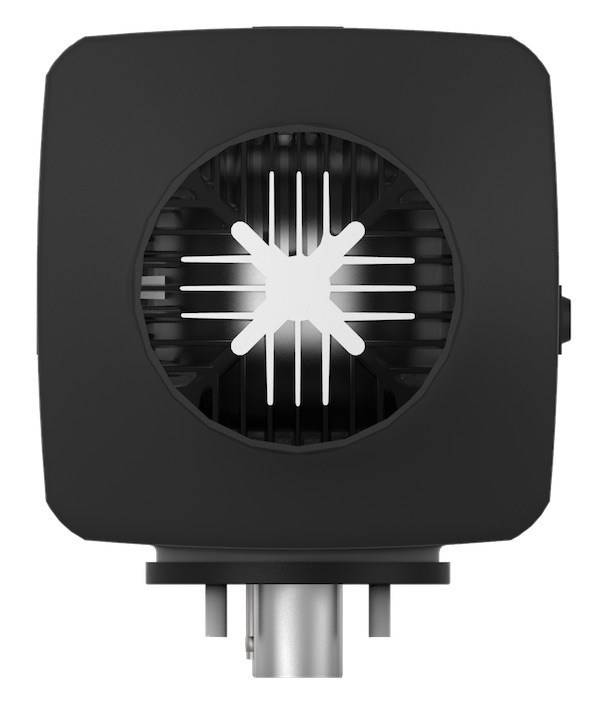 You no longer need to start your vehicle just to get warm.
You have total control over the intensity of heat. Select the power manually or choose your preferred temperature, it will regulate the power automatically.
No more waiting for daylight.
United States's mornings can sometimes be bloody cold.
A solution for every vehicle
"Heat can be supplied no matter if the engine is running or not."











... or any off-grid system







It is a heat exchanger with two hermetically sealed circuits.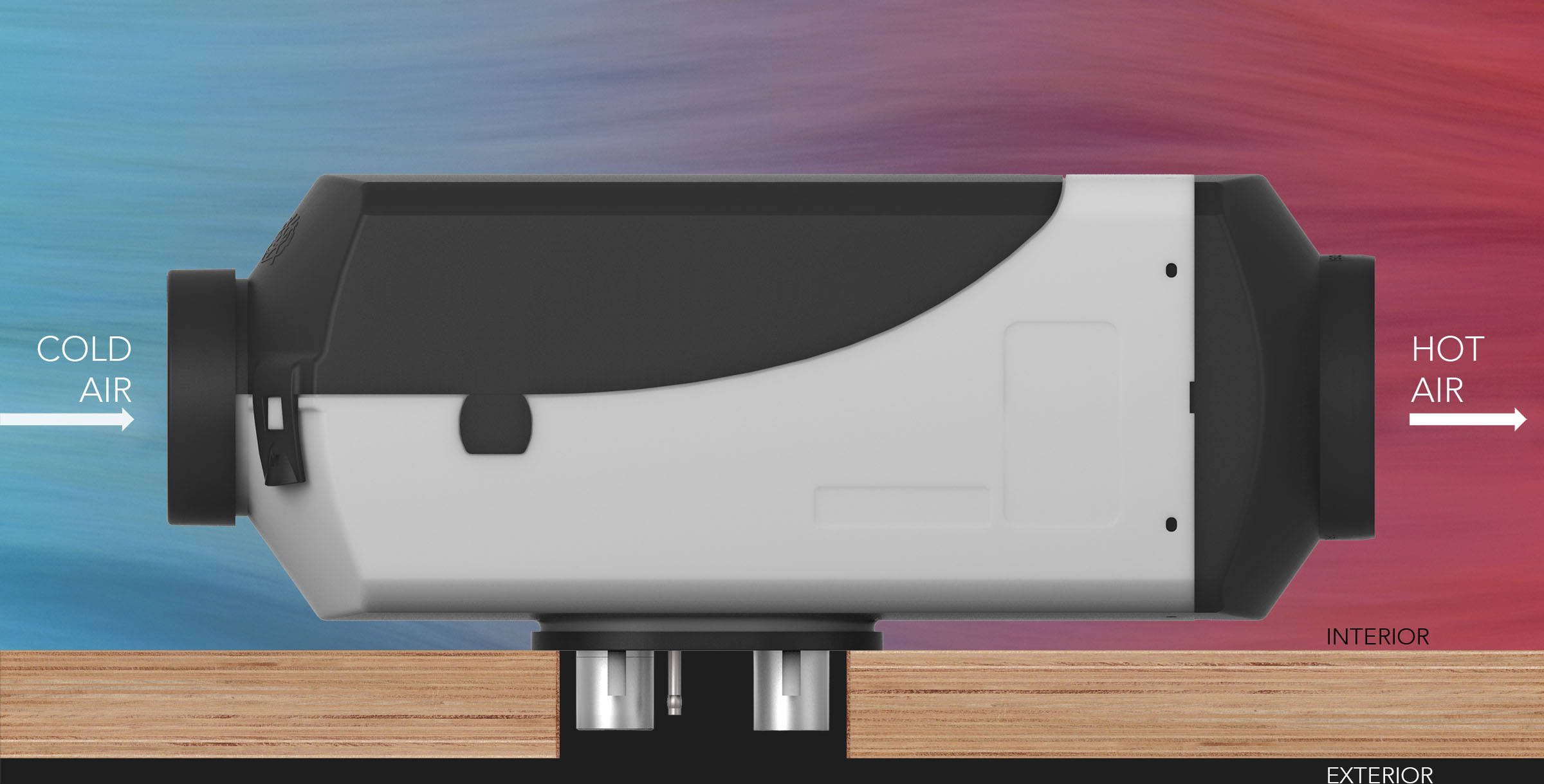 Consumption of the heater starts at 0.1 litre of diesel per 1 hour. Running cost is almost negligible.
Advanced system for cleaning carbon deposits from the combustion chamber.
"Your cabin will never be affected by any odour. You can leave the heater on overnight."
Internal or external tank
The installation kit can be configured with an external fuel tank or connection to the main diesel tank.
It would be hard to find a quieter diesel heater. The speed of the fan is controlled linearly with the increasing power. The kit includes extra silencers to reduce the air intake and exhaust noise.
The Diesel Air Heater is completely independent from the vehicle motor components but requires a stable 12V or 24V DC electrical source for powering all the control systems.
1) Vehicles – connection to the main battery or secondary deep-cycle battery.
2) Off-grid systems – additional deep cycle battery regularly charged by solar panel, etc.
3) On-grid systems – can be powered via AC/DC transformer providing floating voltage charging small battery.
Electricity is used for the initial preheating and ignition. Afterwards, the system takes just a small amount of electrical power. This is one of the most efficient heaters on the market.
The electronic control unit (ECU) runs a tiny operating system that maintains all the tasks seamlessly.
Advanced protection mechanisms protect against overheating or other internal damage.
Feel the drive with the trusted Air Heater.

The complete manufacturing process is carried out under strict conditions.

Fully legal in NZ

Made for vehicles

This product meets all relevant safety standards. Products of the brand HEATPORT can be legally used on New Zealand roads.

This product was designed by the best safety standards to be safe while used on the roads.

Every single component of the heater is tested for its performance. We quality check every component in New Zealand before the product is shipped to our customers.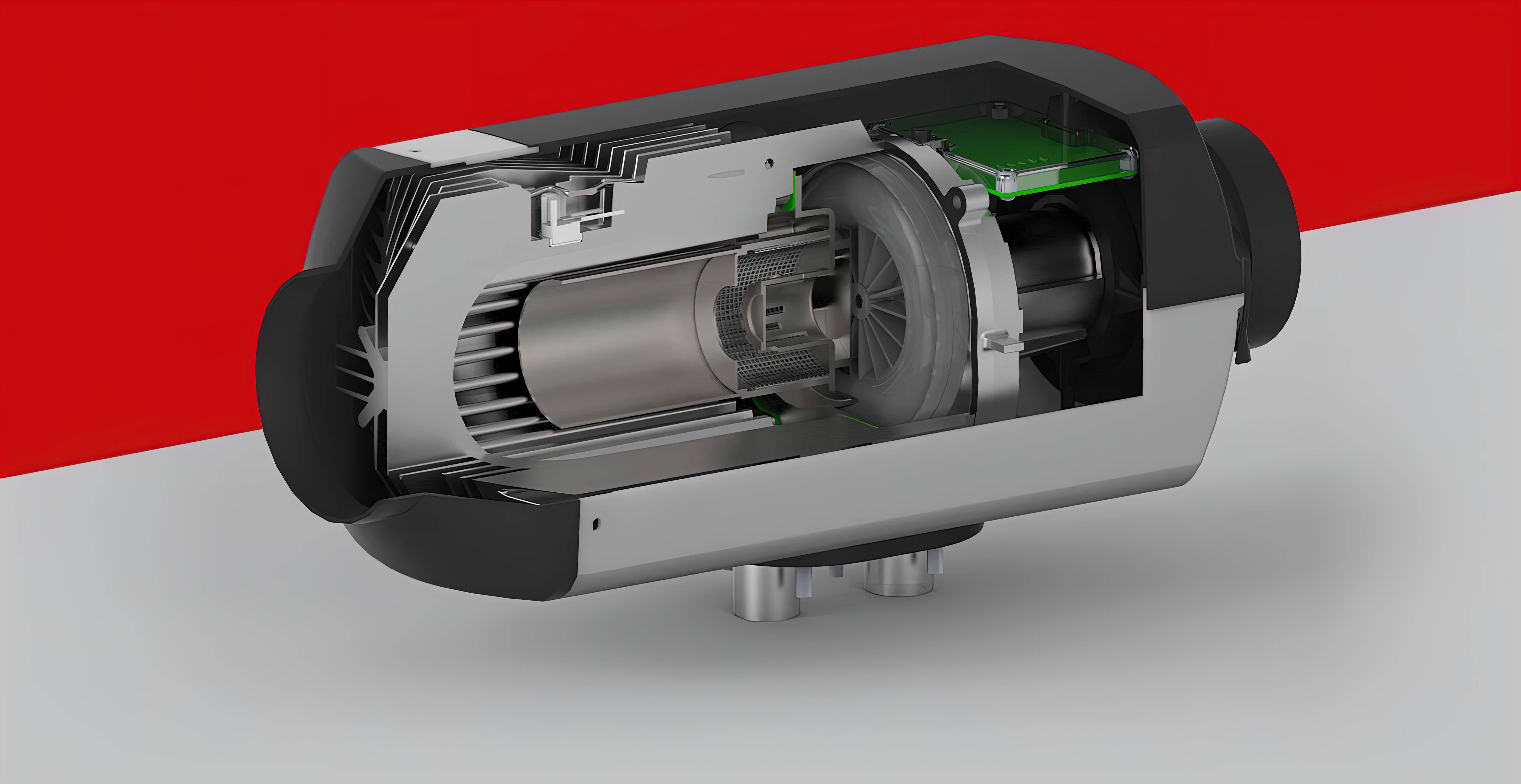 All products are covered by the 12 month manufacturer's warranty. After 12 months, we can provide you after-warranty service. Most of the installation kits allow you to purchase additional extended warranty of up to 24 months.

This product does not have to be installed by a certified installer or meet safety inspections such as gas, etc.

Many of our customers install the units on their own. However, we always recommend installation by an experienced technician.

If things do not go as expected, we are here to assist.

Wide range of accessories
Every installation is unique and therefore we can offer you additional accessories.

We stock each individual sub-component in bulk for assembly of heating units, therefore we can supply you replacement parts with lightning speed.
Begin your voyage
in warmth
Travel with ease. Set the required temperature and let the Diesel Heater take care of the rest.